Honestly, Clint Eastwood's speech to an empty chair at the Republican National Convention was like a piece of hair in the soup.
The 82 year old actor and movie director is  pro choice and pro gay marriage, which differ from the Republican philosophy. What they have in common is their love for guns. His speech at the Republican convention overshadowed Mitt Romney's speech. People are still talking about it.
Eastwood's "we own this country" or "we hire politicians to do the job" sounds like someone who is out of touch with American politics. Politicians buy votes from the people, then, once elected, themselves are bought by corporations. In any other country it is called corruption.
America has the most expensive elections in the world. If Clint Eastwood thinks that it is a bad idea for an attorney to be President, clearly he didn't know that candidate Mitt Romney earned a law degree from Harvard.
While  I believe that Mitt Romney is qualified to be president, at this stage of the presidential campaign, little mistakes can count against him. Though, as the Bamileke of Cameroon say, "Better a mistake at the beginning than at the end."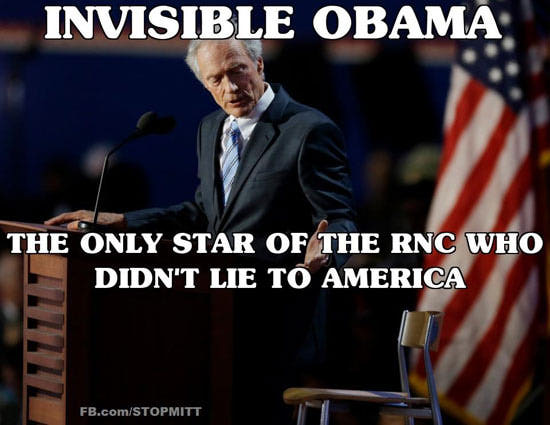 Tags: beginning, Clint Eastwood empy chair, Clint eastwood endorses Romney, Clint eastwood RNC speech, Empty chair Obama, end, Invisible Obama, mistake, Mitt Romney Eastwood